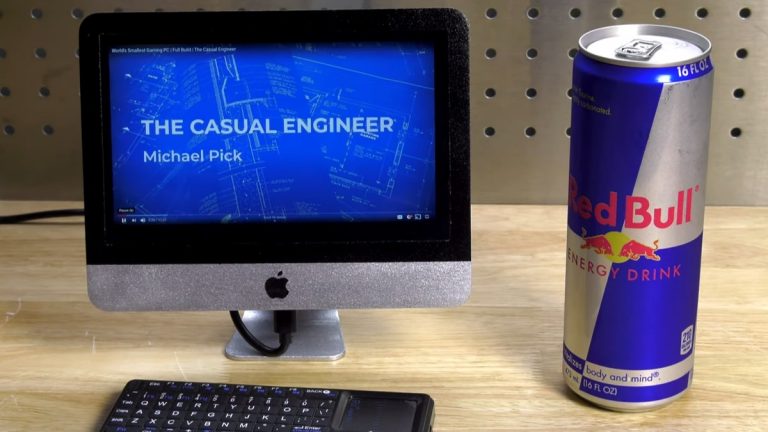 Engineer and developer Michael Pick has developed the world's smallest and prettiest iMac using Raspberry Pi and 3D printing. DIY enthusiast Michael Pick has uploaded a video to his YouTube channel with sick hip hop beats documenting the entire process of building this iMac, which is no taller than a Redbull can.
Building the world's smallest iMac begins with 3D printing parts, trimming screen to fit parts, testing fit, and cutting the Raspberry Pi to make it fit into the thin and tiny structure of the iMac. Michael cuts the ethernet port and two USB ports on the Raspberry Pi's top to fit it into his DIY project.
The final iMac includes 1x USB 2.0, 1x USB 3.0, no ethernet, but he has included Bluetooth and WiFi to make the computer work. He has used a 7″ IPS display with a 1024 x 600 resolution for the project. He also used a Bluetooth dongle to add keyboard and mouse functionality to the iMac. He had to cut and trim a USB extension cable to maintain the aesthetics of the project.
To make it look like a replica of iMac, Micheal applied primer to the 3D printed parts. He even 3D printed a tiny Apple logo to put it on the iMac. To keep the setup cool, he added an aluminium heat sink and a fan that blows the cold air in the case.
In the end, to test its DIY iMac, Michael played Minecraft at 1,000 fps. You can watch the complete video and subscribe to his channel to watch more of his exciting DIY projects.