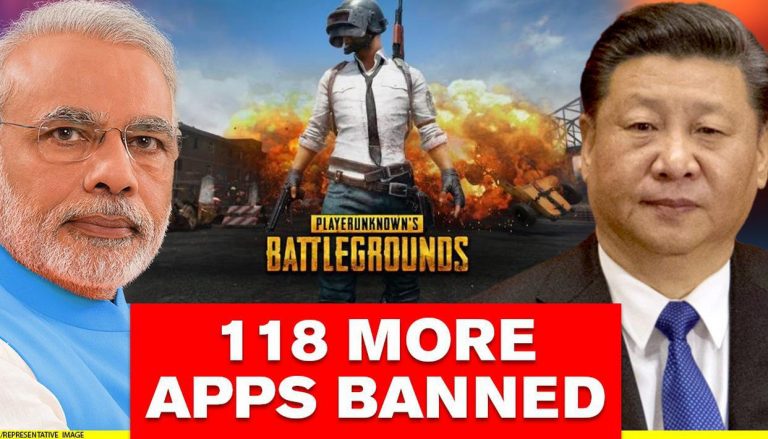 Today, the Indian central government has made another digital strike on China. The Indian government has banned 118 Chinese apps today, including the world-famous online game PUBG.
According to the ministry, "the move to ban these apps has been taken keeping in view the security of Indian cyberspace and the interest of the country's sovereignty". It is also in the interest of crores of Indians who use these Chinese apps.
It has also been reported on behalf of the Ministry that they have received a number of complaints from various sources such as misuse of many apps available on Android and iOS stores to steal the data of Users of India and transmit them in an unauthorized manner to servers outside India. Collecting this data is a concerning matter for India's national security, which needs to be addressed immediately.
For all these reasons, these 118 apps have been banned in India today. The list of some apps is given below.
1. APUS Launcher Pro- Theme, Live Wallpapers, Smart
2. APUS Launcher-Theme, Call Show, Wallpaper, HideApps
3. Baidu
4. Baidu Express Edition
5. ShareSave by Xiaomi: Latest gadgets, amazing deals
6. CamCard – Business Card Reader
7. CamOCR
8. InNote
9. VooV Meeting – Tencent Video Conferencing
10. Super Clean – Master of Cleaner, Phone Booster
11. WeChat reading
12. Government WeChat
13. Cyber Hunter
14. Cyber Hunter Lite
15.Dawn of Isles
16. Ludo World-Ludo Superstar
17. Chess Rush
18. PUBG MOBILE Nordic Map: Livik
19. PUBG MOBILE LITE
20. Rise of Kingdoms: Lost Crusade
21. Art of Conquest: Dark Horizon
22. Gallery Vault – Hide Pictures And Videos
23. Smart AppLock (App Protect)
24. Hide App-Hide Application Icon
25. AppLock
26. Dual Space – Multiple Accounts & App Cloner
27. Music – Mp3 Player
28. Music Player – Audio Player & 10 Bands Equalizer
29. HD Camera Selfie Beauty Camera
30. Cleaner – Phone Booster
31. Web Browser & Fast Explorer
32. U-Dictionary: Oxford Dictionary Free Now Translate
33. VPN for TikTok
34. Rules of Survival